EuroChef USA offers a variety of cooking accessories to make preparing your favorite meals even easier. Of those accessories, the fully removable Griddle cooktop option, or accessory, serves as one of the most useful tools in the kitchen. Here are our top four reasons why this tool is essential for the at-home kitchen: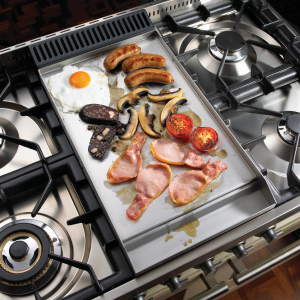 Surface Space: Stovetop griddles have a larger surface space than traditional pans or cast iron skillets. This allows for more food to be prepped at once, making it a perfect option for large families or those who like to entertain!
Griddles Require Less Fatty Oils: The need for less fat and oils during cooking offers the possibility for healthier meals. In addition, much of the excess fat separates itself during cooking and makes its way in to the integrated grease trap instead of being absorbed into the food.
Every meal of the day can be prepared on a griddle: Pancakes, eggs and bacon during breakfast, grilled cheese for lunch or a juicy steak for dinner – virtually every meal of the day can be prepared on a griddle top.
Cooking indoors: Traditional BBQ favorites can be cooked indoors during less than ideal weather, so you can enjoy your favorite foods all year long.
For our favorite griddle recipes, take a look at our Pinterest board below!