An important part of keeping your cooking appliances looking and functioning like new is to keep them clean all year long. Cleaning your ILVE or Verona appliance is made easy by following these simple tips:
Gas Cooktop Surfaces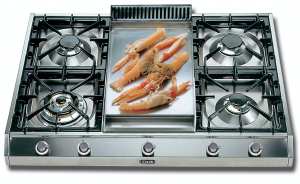 To clean the cast-iron grates and remove any spills or splatters, use a scratch resistant cleansing powder such as Bon Ami or Bar Keeper's Friend. Mix the powder with water to create a thick paste or slurry mixture. Dip a soft cloth or sponge into the mixture and rub gently onto the grates. Rinse thoroughly within a minute of application and wipe the surface dry with a clean, smooth cloth.
For food that has burned onto the stainless steel stovetop surface, apply warm water to the spot while the stovetop is still warm. Once the stovetop has cooled down it should easily wipe away. For extra tough spots try a general stainless steel cleaner that can be found at your local store.
To sanitize the surface, use a cleansing spray or wipe made specifically for stainless steel surfaces. Note that it is recommended to only use a smooth cloth/sponge and cleanser without bleach on any appliance surface you may be cleaning.
Electric or Induction Glass Cooktop Surfaces
To maintain and avoid damage to the glass on an electric or induction cooktop surface be sure to wipe away any spills in a timely manner (always be sure the surface is cool enough to avoid burns.) Spills can normally be wiped up with a damp sponge, cloth or paper towel along with a gentle cleaning agent made for glass surfaces, which will also work to sanitize the surface and remove any stubborn smudge marks
Oven Interiors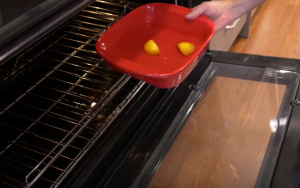 The secret to cleaning the oven is to wipe up spills and splatters as they occur (always be sure the oven is cool enough to avoid burns.) Once spills are wiped up, clean the oven with a simple hand dishwashing soap and warm water.
To get rid of more stubborn grime or odors, place an open pan of water with a little bit of lemon juice or white vinegar into the oven and turn the temperature up to the highest setting and let the oven run at this temperature for 45 minutes to an hour. This essentially creates a steam process and allows any splatter to be loosened from the cavity walls. Once fully cooled, the oven can easily be wiped clean with a smooth sponge or cloth.
Oven Doors
ILVE and Verona oven doors have the exclusive benefit of easily removable glass for simple cleaning. The glass panels can be removed simply by unscrewing the retaining screws with a screwdriver. The glass plates can then be cleaned using paper towels and a non-invasion glass cleaner to wipe away spills and splatters.
Griddles & Griddle Tops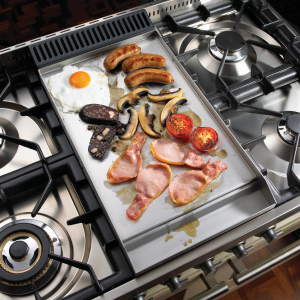 After cooking, while the griddle is still warm, pour some kosher salt and oil onto the griddle top surface. Cut a lemon in half and use the lemon to scrub the salt and oil onto the surface. The kosher salt will act as an abrasive to work away any of the burnt residue and impurities from cooking. When finished, simply wipe clean with a dry paper towel leaving it slightly oiled for next use.
For more information on how to clean your ILVE or Verona range, take a look at the following how-to videos: