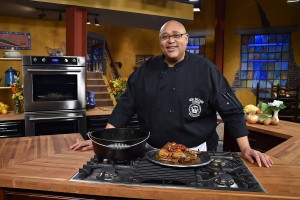 Verona and ILVE Appliances help dress the set for a new 26-part cooking series entitled New Orleans Cooking with Kevin Belton produced by WYES-TV.
In the new series that debuted nation-wide April 16, Chef Belton explores the diverse cultures that contribute to the distinct New Orleans taste by cooking recipes using an ILVE cooktop and a Verona double wall oven.
The 36" ILVE Cooktop (Model UXLP90F) is fully equipped with 5 powerful burners, a fully removable griddle, individual precision burner controls, flame failure safety cutout, one-touch electronic ignition, triple ring burner, cast iron heavy-duty grates and burner caps and stainless steel knobs.
The 36" Self Cleaning Electric Double Oven (Model VEBIEM3030DSS) features easy-to-use touch controls, stainless steel knobs and handles, two 4.1 cu.ft. capacity ovens, 12 versatile cooking functions, pyrolytic self-clean, 4 pane heat resistant glass doors, true European convection in each oven, as well as a heavy duty and telescopic glide rack in each oven.
The goal of Chef Belton's show is to teach others how simple and fun cooking can be. "They think that something that tastes so good has to be really complicated," says Belton "but it doesn't. I like food that is simple but surprisingly delicious."