ILVE Appliances returns to New York City once again for the 17th annual Architectural Digest Design Show. From March 22-25, ILVE will be showcasing their newest collections to approximately 40,000 guests and design enthusiasts during the annual showcase for luxury and design.
Below is a preview of the innovative collections that will be on display at the ILVE booth #279 this year.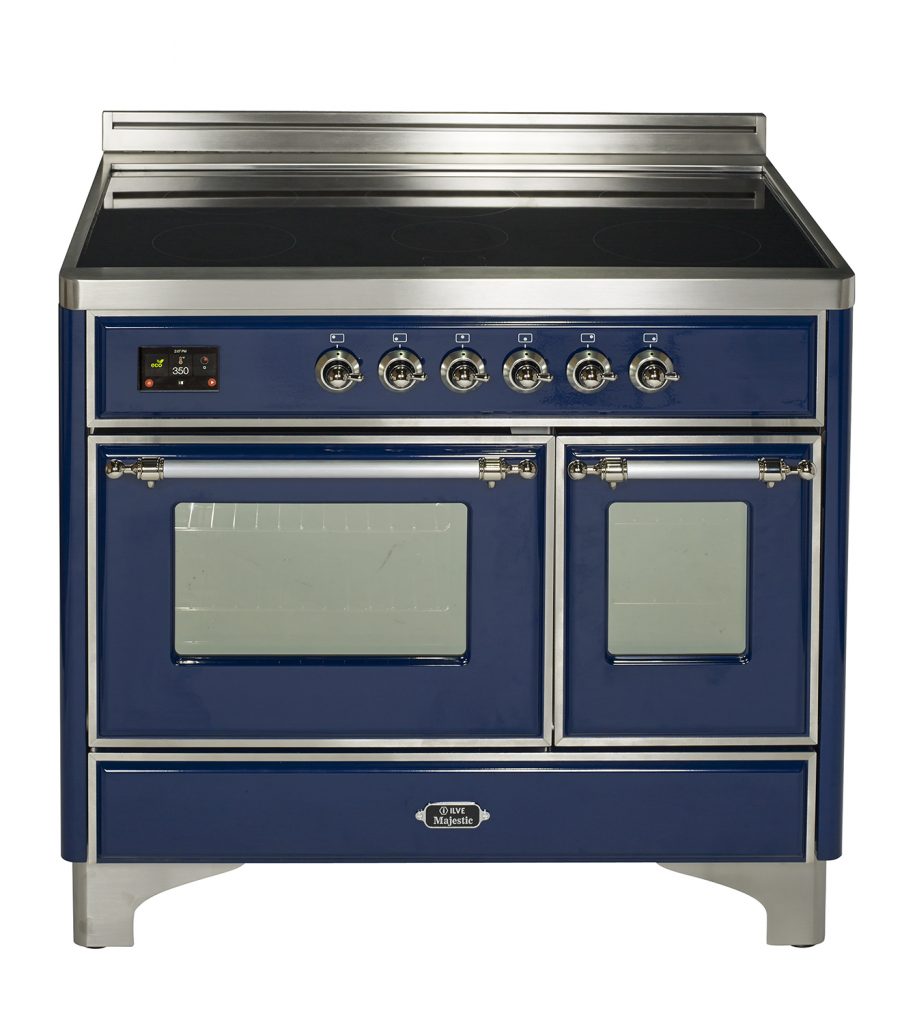 NEW! ILVE Majestic II Collection
The new ILVE Majestic II Collection features all of the elements customers know and love from the long-standing favorite Majestic collection with upgrades for style and efficiency. New features include a new clock with digital touch control for cooking mode and temperature selection. Oven cavities are now larger and packed with bonus features such as dual halogen lights, added rack positions, a diagonal rotisserie and temperature probe. The new warming drawer features thermostatic control to keep food at an ideal temperature for serving. From the Majestic II Collection, ILVE will be showcasing a 36" Induction Range in Gloss Black with Brass Trim,  40" Induction Range in Midnight Blue with Chrome Trim and 36" Dual Fuel Range in Romato with Brass and Bronze Mixed Metal Trim.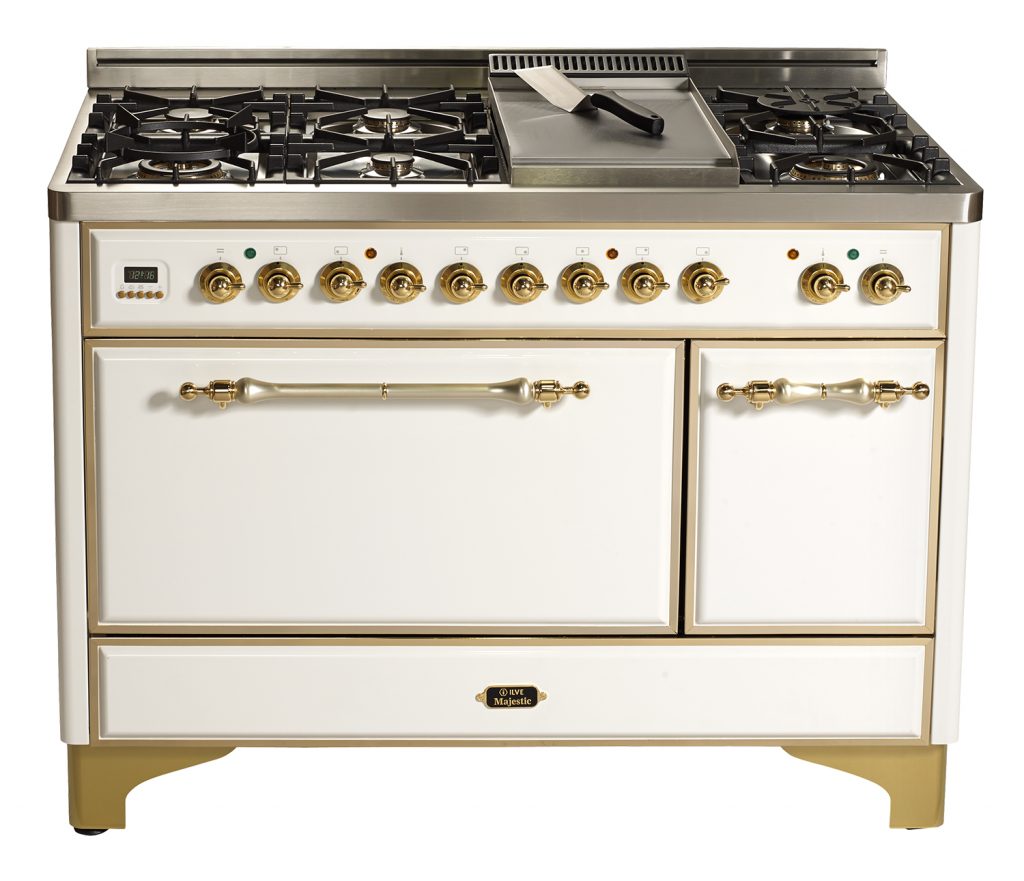 NEW! ILVE Majestic Solid Door Range
ILVE adds even more ways to customize their award winning ranges with a new, traditionally inspired solid door option for the ILVE Majestic collection. The new solid door range is completely windowless and features a decorative country-style handrail on the oven door. ILVE will be showcasing a 40" Majestic Solid Door Range in Stainless Steel with Brass Trim at the show.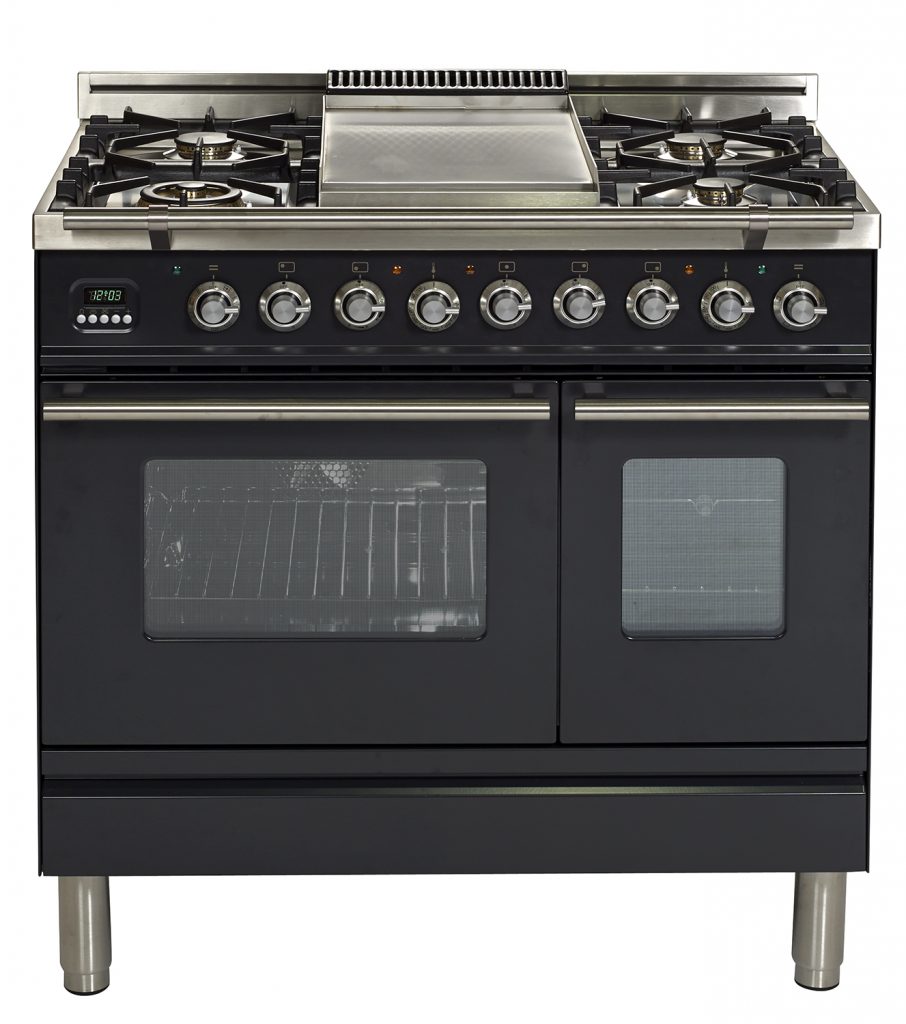 NEW! ILVE Pro Series Range
ILVE introduces the ILVE Pro Series to their line of free-standing dual fuel ranges. A sleek, modern design and a sharp price point matched with ILVE's superior quality ensure that this is no ordinary kitchen appliance. The new line flaunts chef quality features including a removable griddle, high BTU brass burners and a built-in warm drawer to keep cooked food at an ideal temperature for serving. From the Pro Series, ILVE will be showcasing a 36" Double Oven Range in Matte Graphite and a 48" Double Oven Range in Stainless Steel.
ILVE Majestic Collection
The ILVE Majestic line of ranges is available in both dual fuel and all gas (30" & 36" only). The ranges are offered in five standard American sizes including 60", 48", 40", 36"& 30" with both single and double oven options available. The line is fully customizable with seven standard colors, over 200 RAL Colors, three trim options and four leg options allowing for a wide range of choices for personalization. Additionally, ILVE Majestic Ranges are equipped with green energy features, triple-pane glass doors for better heat insulation and an 8-minute electric oven preheat to 350° – the fastest in the industry. From the Majestic collection ILVE will be showcasing a 36" Dual Fuel Range in RAL 5014 Pigeon Blue with Mixed Metal Brass & Chrome Trim, 48" Range in True White with Chrome Trim and 60" Range in RAL 5020 with Chrome Trim.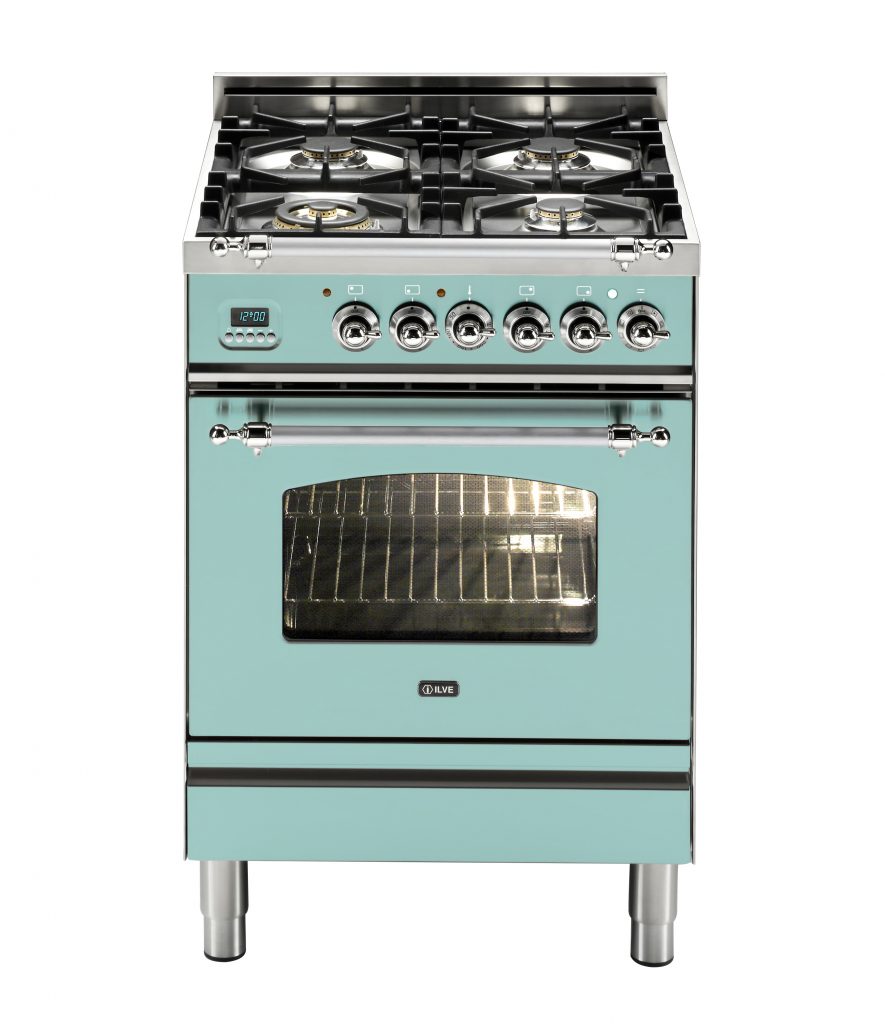 ILVE Nostalgie Collection
The ILVE Nostalgie line of ranges is available in a powerful all gas configuration. The ranges are offered in three standard American sizes including a compact 24", 30" and 36" all with a 24" depth. The line is customizable with eight standard colors and more than 200 Classic RAL Colors. The ranges come complete with an upper handrail, digital clock & timer, pre-heat indicator, hearth shaped window, tubular legs and a full width storage/warming drawer. ILVE will be featuring the compact 24" gas range in True White with a brass trim at the show.

ILVE Gas Cooktop Collection
ILVE Gas cooktops are fully equipped with the exclusive ILVE removable griddle, which allows for endless food prep options. Each cooktop includes individual precision burner controls, a flame failure safety cutout device, one-touch electronic ignition, a triple ring burner, cast iron heavy-duty grates, matte black burner caps and stainless steel knobs. ILVE will be featuring a 48" drop-in cooktop at the show.
About The Architectural Digest Design Show:
The annual Architectural Digest Design Show brings together the top residential and hospitality finds from over 400 brands. From furniture, accessories, lighting and art, to kitchen, bath, building products, hardware, and flooring, the show boasts offerings by both independent makers and established manufacturers. Held at Pier 94 in New York, the experience includes insider access to seminar programs headlined by design world luminaries, as well as exciting culinary demonstrations, stunning installations, and VIP industry events, such as DIFFA's DINING BY DESIGN (co-located at neighboring Pier 92).