Verona, crafted in Italy but made for the U.S. market, launches a new series of 36" professional ranges with contemporary lines and stunning details that combine the very best of industrial design and cooking performance. Offered in three colors, including stainless steel, matte black and gloss red, the Verona Classic models feature a sleek plinth leg, matching colored control panel, exquisite beveled front plus robust stainless handles and handrail. The elegantly shaped controls add a unique look, and ergonomic feel that is certain to become a trademark of fine cooking. The panel behind the controls is color-matched with the chosen range finish. The ranges are offered in a full line of dual fuel, gas or electric. The dual fuel and gas options are also available with a choice of a double oven.
The ranges are fully equipped with a European convection oven that is easily programmed with the digital clock and timer, delivering the ultimate in professional performance. The multi-function convection oven provides seven cooking modes including three baking modes (Bake, Fan Oven, Convection Bake); three radiant modes (Broil, Convection Broil, Dual Broil) and also a Defrost mode. Convection cooking helps to prepare meals faster, and in less time than a conventional oven.
A full width compartment provides expansive storage capacity while a standard Glide Rack makes cooking large, heavy items almost effortless.
Other Details: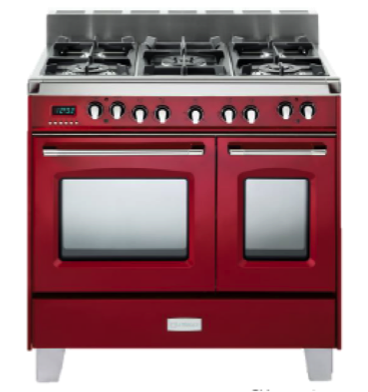 Programmable Digital Clock & Timer in the dual fuel
and electric ranges
Multi Function European Convection Oven in the dual
fuel and electric ranges
High Powered Infrared Broiler in the gas range
EZ Clean Porcelain Oven Surface
Full width storage compartment
Plinth legs with a tubular option
MSRP starts at $3599