Here at Verona Appliances, we don't just want to spotlight our products – we also want to spotlight what you can do with our products, and that includes cooking and baking for you and your family.
This month, we put the spotlight on apples and apricots because January is Apple and Apricot month. You might wonder why these fruits are paired (or should we say pear-ed?) together because other than their shape, they look nothing alike. Apples can vary in color from red to yellow to green and can be quite large, while apricots are more orange in color and are smaller. Apricots have large stones at their centers, while apples have seeds in a signature star pattern at their core.
These two fruits actually both belong to the rose family, or Rosaceae. They also both have versatility in cooking and can be used in several dishes. So, to honor Apple and Apricot month, we have a full three-course meal planned for a cozy night in.
Appetizer: Apple Brie Crostini
It will be hard to eat just one!
Ingredients
16 crostini
1 wedge brie
2 honeycrisp apples
2 tbsp apricot jam
1/4 cup basil (lightly packed)
Sea salt
Directions
Slice apples into fine wedges and chop the basil. You can use your Verona cutting board if you have one.
Spread brie on crostini, then top with sliced apple, a dollop of apricot jam and basil.
Finish with a sprinkle of sea salt.
Pro Tip: You can pre-heat your Verona oven for the next recipe while you're working on the crostini.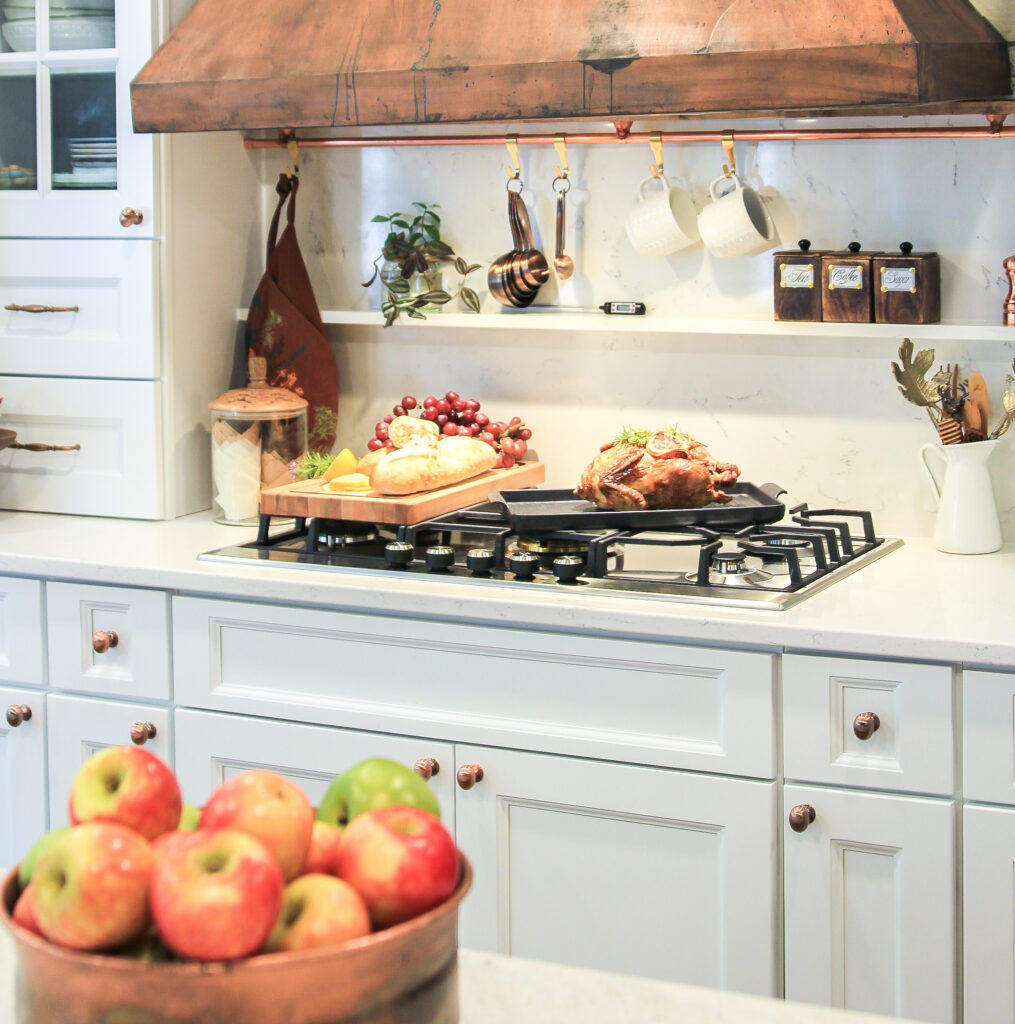 Dinner: Apple and Apricot Stuffed Chicken Breasts with Veggies
This chicken dish is packed full of flavor – literally!
Ingredients
2 slices uncured bacon
1 Gala apple
1 tbsp. avocado oil, divided
2 tbsp. chopped, dried apricots
1 tbsp. orange juice
¼ cup chopped, raw pecans
2 boneless, skinless chicken breasts
¼ tsp salt
¼ tsp pepper
Directions
Preheat your Verona oven to 400°F.
Chop bacon and apple. You can use your Verona cutting board if you have one.
Sauté bacon and apple in ½ tbsp. of hot oil in a large, ovenproof skillet over medium heat for 5 minutes or until bacon is crisp.
Transfer to a bowl, and stir in apricots, orange juice and pecans.
Pound chicken to ½-inch thickness.
Cut a 2-inch slit horizontally into each breast. Stuff apple mixture into each pocket, then sprinkle with salt and pepper.
Cook chicken in ½ tbsp hot oil in skillet for 2 minutes per side or until browned.
Transfer skillet to oven, then bake 12 to 15 minutes or until chicken is done.
Pro Tip: To cut down on prep time (and dishes), pop a cook-in-bag vegetable in the microwave. Green beans or broccoli would pair well!
Dessert: Apricot Apple Crisp
This twist on a classic recipe gets a hint of sourness from the apricots.
Ingredients
1 1/2 cups all-purpose flour
1 1/2 cups packed brown sugar
1/4 cup plus 2 tablespoons softened butter or margarine
2/3 cup chopped macadamia nuts
8 medium tart sliced cooking apples (we recommend Honeycrisp or Granny Smith)
2 cups chopped dried apricots
Directions
Heat your Verona oven to 350°F. Mix flour, sugar, butter and macadamia nuts in a large bowl.
Place apples in an ungreased rectangular 13 x 9-inch pan. Top with apricots. Sprinkle flour mixture over top.
Bake uncovered for 35 to 40 minutes, or until apples are tender.
Serve warm with vanilla or cinnamon bun ice cream if desired.
Pro Tip: Use the Convection Cooking Mode during baking for even cooking. You can check out our Simple Guide to Oven Functions for information on this setting, or you can refer to your product manual. 
Share your recipes and pictures of you enjoying apples and apricots on social media with the #AppleAndApricotsMonth and #VeronaAppliances hashtags. And if you tag @VeronaAppliances, you might be featured on our social channels!
For more projects, products, trends, recipes and news, follow us on Facebook, Instagram, Pinterest, LinkedIn or visit www.veronappliances.com.