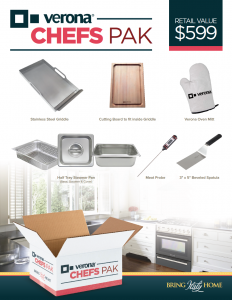 Verona Appliances has released the all new Verona CHEFS PAK. The CHEFS PAK comes complete with six unique cooking accessories perfect for the devoted chef.
The exclusive accessory package includes:
Heavy duty stainless steel griddle
Maple Cutting board to fit inside the griddle
Steamer pan with base, steamer and cover
3" x 5" Beveled Spatula
Digital meat probe (batteries included)
Verona protective oven mitt
The CHEFS PAK (VECP1) has a retail value of $599. The griddle (VEGRL200SS) and cutting board (VECB9171) will be available for individual purchase, while the spatula, steamer pan, meat probe and oven mitt are exclusive to the CHEFS PAK.