Lightweight and Induction-Friendly Cast Iron Grill/Griddle to Replace Stainless Griddle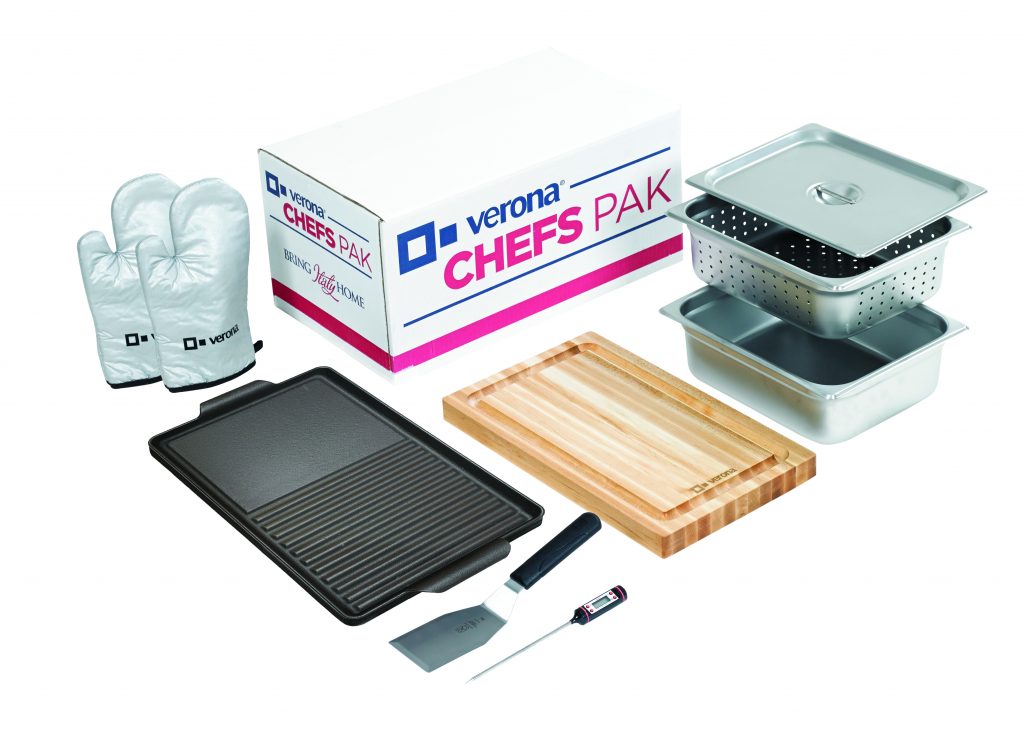 Verona Appliances has released their new and improved Chefs Pak to the U.S. market.
The Verona Chefs Pak can be used in tandem with any size range to make home cooking a breeze. Initially debuted in 2015, the Chefs Pak has grown from eight unique cooking accessories to nine. New this year is a second oven mitt and a cast iron grill pan that is more lightweight and can be used on induction cooktops.
"The Chefs Pak makes a great addition to any home cook's kitchen," states Melissa Haber, Vice President of EuroChef USA. "The new accessory package is more adaptable than ever. Whether consumers are cooking with electric, gas or induction, we provide options for every level of cooking to make mealtime easier."
The exclusive accessory package includes:
Cast iron grill/griddle
Maple cutting board, measuring 10 ¼" W x 17 ¼" D x 1¼" H
Steamer pan with base, steamer and cover, which can also be used as a warming station or within the oven cavity
2 durable and heat resistant Verona oven mitts
Digital temperature probe (batteries included)
3"x 5" beveled spatula
The improved Chefs Pak (VECP2) has a new retail value of $499, or at a discounted price of $299 when purchased with any Verona range after instant rebate.
About Verona: Verona Appliances' stylish line of ranges, ovens, cooktops, ventilation, dishwashers and refrigeration have been featured in upscale kitchens around the world since 1958. Designed and manufactured in the suburbs of Venice, Italy, each Verona cooking appliance is held to the highest standards of quality and is made to U.S. market specifications. Verona's new Designer Series offers the ability to customize a range with six trending colors, three knob designs and four fuel options using an intuitive online tool. EuroChef USA is proud to offer the Verona line of appliances through an authorized network of U.S. distributors and retailers, suitable for any sized kitchen.
For more information visit https://veronaappliances.com/