Verona Appliances has partnered with the star of HGTV's "Good Bones," Mina Starsiak Hawk, to renovate at-risk properties within the city of Indianapolis, Indiana. Mina, along with her mother, Karen E. Laine, both work at their family company, Two Chicks and a Hammer, where they flip run-down homes and renovate them into contemporary design dwellings.
Mina's skillful intelligence in real estate and Karen's knowledge of interior and exterior design forms an unbeatable partnership, coming together to transform dream houses into reality, one house at a time. As Mina was renovating kitchens in these three flipped homes, she realized she wanted to create a modern design with European flair, so she decided to add a Verona range.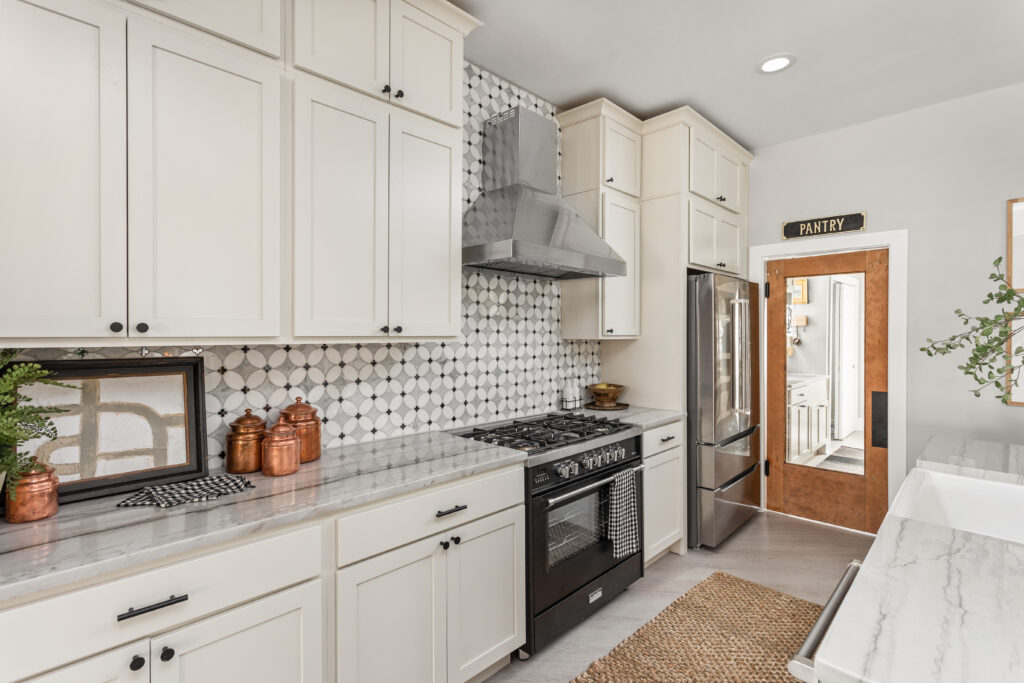 Charming Cottage: Where Vintage Vibes Take Center Stage
In the premiere episode of Season 7, titled "Quaint Cottage with Vintage Vibes," Mina decides to enhance a small cottage home in the Fountain Square neighborhood of Indianapolis with modern upgrades while preserving its timeless vintage charm. From the very first step on the porch, the house portrays lots of character with its charming siding, inviting windows and curb appeal.
Mina's design choices come to life within the interior of the home, where you're struck by the warmth and inviting ambiance. Mina designed this home with natural wood, a palette of soothing colors and a selection of textures, that overall creates a balance of both coziness and style. One of her primary objectives was to redefine the kitchen and dining room as a unified space while keeping the vintage aesthetic. To achieve this, she introduced a modern quartzite countertop with ample open space for functionality and style. For the perfect finishing touch, she added a counter-to-ceiling wall backsplash perfectly paired with a Matte Black Designer Dual Fuel Range from Verona Appliances.
Small Space, Big Luxury
In Season 7, Episode 13, titled, "Little Bit Luxurious," Mina decided she wanted to transform this house from outdated and dull to elegant and modern. Located in The Valley of Indianapolis, her goal was to merge the living room and kitchen into one cohesive space, perfect for entertaining. To make the kitchen into an ideal dream space, Mina added several key elements. She installed a stunning quartzite countertop island, a stone backsplash and a Verona Designer Gas Range in White. In expressing her passion for designing the kitchen, she states to the homebuyers, "Look at your really fancy stove. That is not a first-time homebuyer's stove. We've got the backsplash going all the way up, and other than it just being pretty, it makes it so easy to clean."
Dazzling and Divine: Where 'Wow' Is the Norm
In Season 8, Episode 1, titled, "Income Property with Big Issues," Mina converts a two-story house into a dual-income property in the Bates Hendrick neighborhood of Indianapolis. Mina's first decision on renovating the house was to refresh the home with contemporary upgrades while preserving some of the older elements. A significant aspect of the design was the kitchen, where she provided ample storage space and a pantry area. She also added black marble that extended all the way up to the ceiling, creating beautiful contrast with the Prestige Gas Range in White from Verona. Overall, Mina aimed to achieve the ultimate "wow factor," leaving the homeowners stunned by the transformation that the house truly turned into the perfect dream home.
To learn more about which Verona appliance is the best fit for you, visit https://veronaappliances.com/ and follow us on Instagram, Facebook, LinkedIn and Pinterest.