Ventilation solutions are critical components for every kitchen and choosing the right one is an important step in the kitchen renovation process. Kitchen ventilation fans work to pull the air around you into filters or a duct to remove odors, grease, moisture, smoke, and harmful particles from the kitchen as you cook. Determining the right ventilation system for your kitchen can be complex, as it is not a one-size-fits-all approach.
You will want to consider what options are available, your style preferences, as well as the structure of your home, your local township regulations and more. We recommend you consult with an appliance professional about which hood is best for you, but for now, we will provide you with a guide of talking points so you can be prepared for an informed conversation.
Know What Types of Ventilation Options are Available
Verona range hoods are designed and engineered with great attention to detail and use only the best quality components available. Featuring powerful multi-speed fans, LED lighting and pro-style upgrades, every Verona hood pairs perfectly with Verona cooking products in an array of sizes and colors for the ultimate choice in performance and design. We have three ventilation options available.
Verona Chimney Hoods: A chimney hood is often installed on the wall and eliminates the need for a cabinet over the range or cooktop. The design of this hood often serves as a focal point in the kitchen and can complement the range.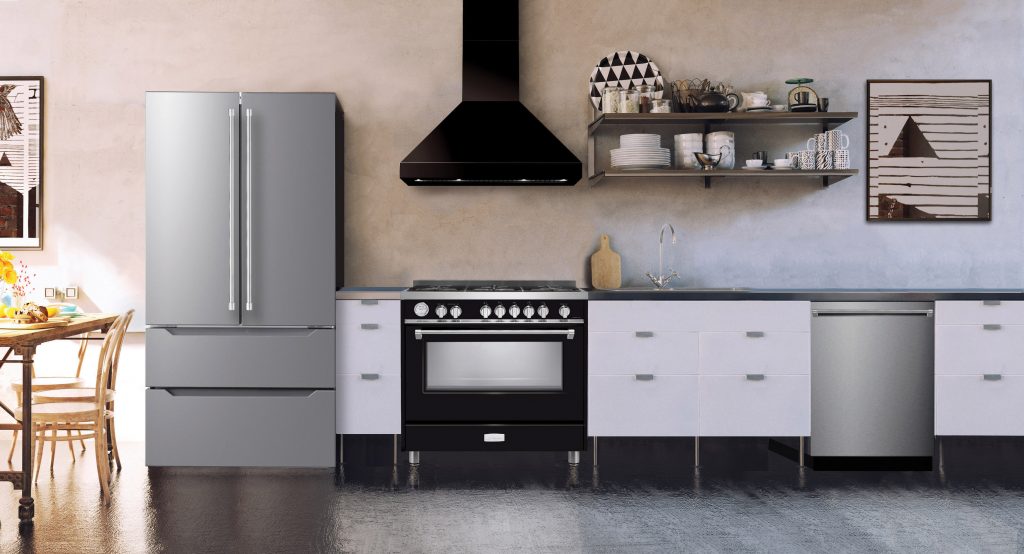 Verona Low Profile Range Hoods: A low-profile range hood is mounted directly onto the bottom of a kitchen cabinet and centered above the range or cooktop.
Verona Range Hood Inserts: A hood insert is installed directly into a hole cut either in the ceiling or a custom surround. The hoods' motor box is hidden for a seamless, straight-line design. It's the perfect hood for appliances installed on an island, peninsula or in a nook.
Determine What Suits Your Style…
Now that you have a general idea of what hoods are available from Verona, you'll want to think about your overall kitchen vision and which hood will best match your style.
The Focal Point: The Verona Chimney Hood offers a lean, straight-line design with rounded edges for a pro-style look. This style hood can easily be the star of any kitchen. In addition, the chef-inspired design will make you feel like you're cooking in a professional kitchen at home!
The Traditionalist: The Verona Low Profile Range Hood installs under an upper cabinet. It's best for when you would like the hood to be part of the kitchen design, but not the focal point. The low-profile hood is both functional and economical in its design, as it allows to for valuable upper storage in kitchens that are tight on space.
Hidden in Plain Sight: The Verona Hood Insert has a clean, slim design with commercial-style performance. This hood is often hidden or integrated into a custom surround designed to match the kitchen cabinetry or as a bold design element.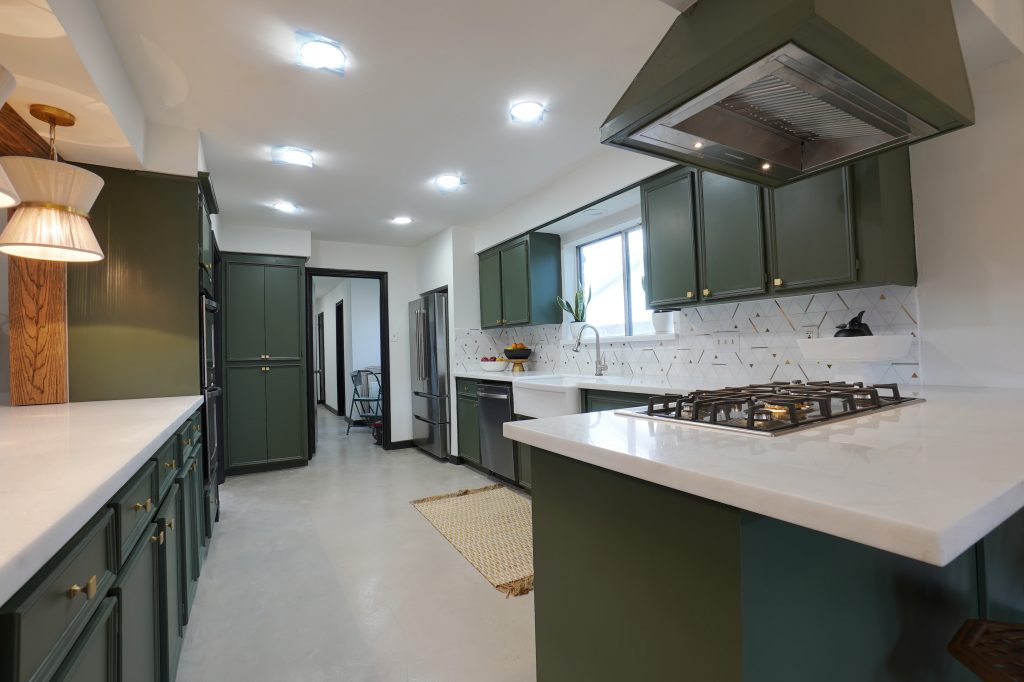 … and Meets Your Needs
Although you may have a particular style hood in mind, you will also need to consider what will meet the needs of your cooking style and your home. Here are a few questions that should be addressed when choosing ventilation.
How many CFMs will you need? CFM stands for cubic feet per minute. This tells you how fast the range hood can move air. The higher the CFM, the faster the air can be moved out of the space. How many CFMs you will need depends on a multitude of factors, including the size and layout of your kitchen. Is it open concept or a micro-sized space? Are there windows? How high are the ceilings? All of these components will be a factor in the CFM power needed. Also consider the width of your cooking appliance and the burner power and fuel type – the larger and more powerful your appliance is, the more CFM's you will need. Verona's ventilation options deliver powerful performance from 600 CFMs for smaller cooktops and up to 1,200 CFMs for larger cooktops.
How will the air be vented in your home? There are two main types of venting methods: external and recirculating. External venting will push air outside to the roof or the side of the home using vents and ducts. The recirculating method, common in condos or apartments, does not require outside ventilation. Instead, air is filtered through the hood first before being released back into the room.
How do you currently cook at home? Think about the type of cooking you do most often. Some range hoods have filters specifically for capturing grease, which can be helpful if you frequently cook with oil. You will also want to think about personal preferences, like if you would prefer extra lighting, want variable fan speeds or a vent that can be controlled by a remote or will automatically adjust fan speed depending on the heat and smoke in the room. Discussing your preferences and cooking habits can help your representative guide you to ventilation that will best suit your needs.
We hope these pointers allow you to feel more confident in your ventilation selection and will help guide you as you work through your kitchen renovation. For more details our Verona's ventilation systems, visit our ventilation page. To find a Verona retailer near you, visit our store locator or call the EuroChef USA sales team at 1-631-254-3434. You can also email sales@veronaappliances.com with additional questions and inquiries.
For more products and design ideas, follow us on Facebook or Instagram or visit www.veronappliances.com.