Since 1958 our family-owned, Italian-made line of ranges, ovens and cooktops has been a preferred appliance brand featured in upscale kitchens throughout Europe. This year marks the 20th anniversary of Verona in the U.S. market.
From 2001 to today, our brand offers a wide range of cooking appliances suitable for any size kitchen on both sides of the Atlantic. To honor this milestone, we want to take you on a journey through the evolution of our product line innovations – highlighting what makes Verona the chef-inspired appliance maker for those who want the look and functionality of a professional appliance for their home.
2001
The one that started it all… Verona's 12" gas cooktop, which featured one large and one small sealed burner with electronic ignition launched in our debut year. Finish offerings included Black, White, Bisque and Stainless Steel. The compact 12" model was part of a full cooktop collection that was available in up to a 36" size.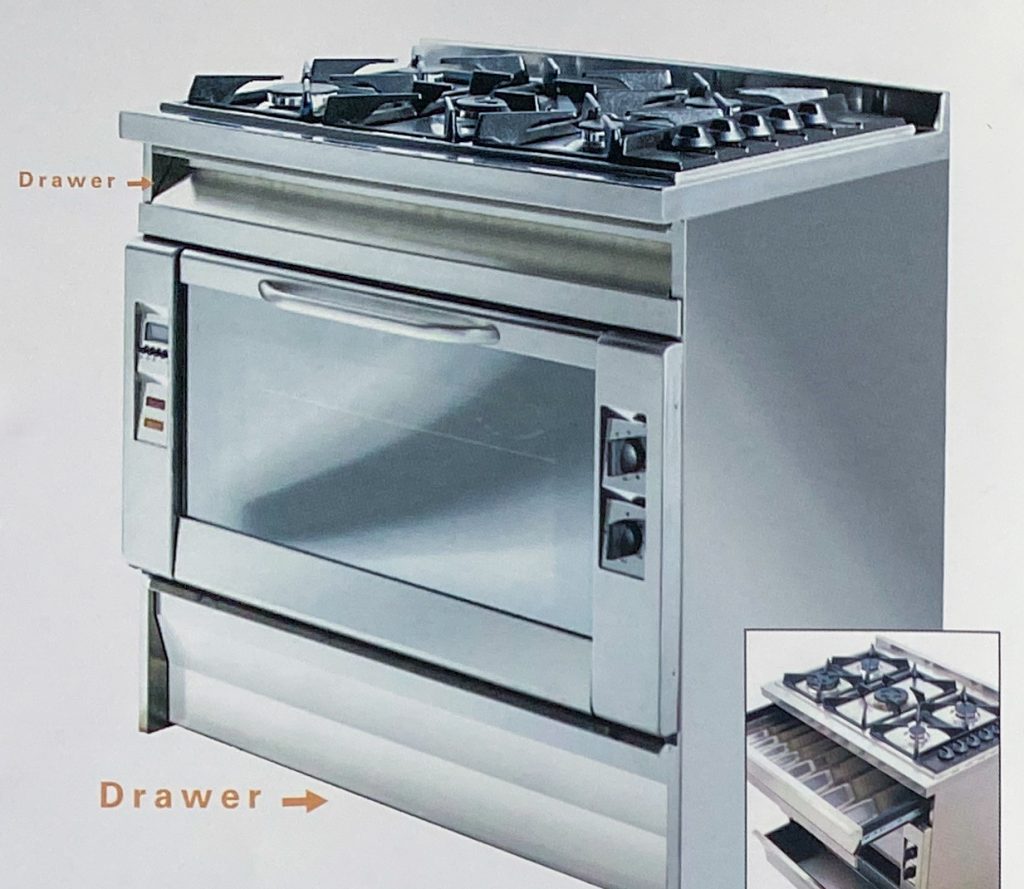 2002
We introduced a full collection of freestanding ranges, including our popular Verona Professional 36" and 48" dual fuel and 24" gas ranges. The pro-restaurant-inspired look and functional features set the stage for Verona as a true cooking appliance that is attainable for at-home chefs.
2005
Verona built-in ovens were launched in 2005 and included the ever-popular 24" gas model, which remains a Verona exclusive today. The individual ovens could be installed as one unit or used with a stacking kit to create a seamless, stunning stainless-steel double oven display.
2010
In 2010 we introduced the exclusive 36" double oven ranges, available in both dual fuel or all gas models. These ovens are a true multitasker, as they allow home chefs to bake dinner and dessert at the same time.
2011
Verona debuted a variety of color options for the range collection. In addition to stainless steel, we added matte black, burgundy, antique white and white to our color palette.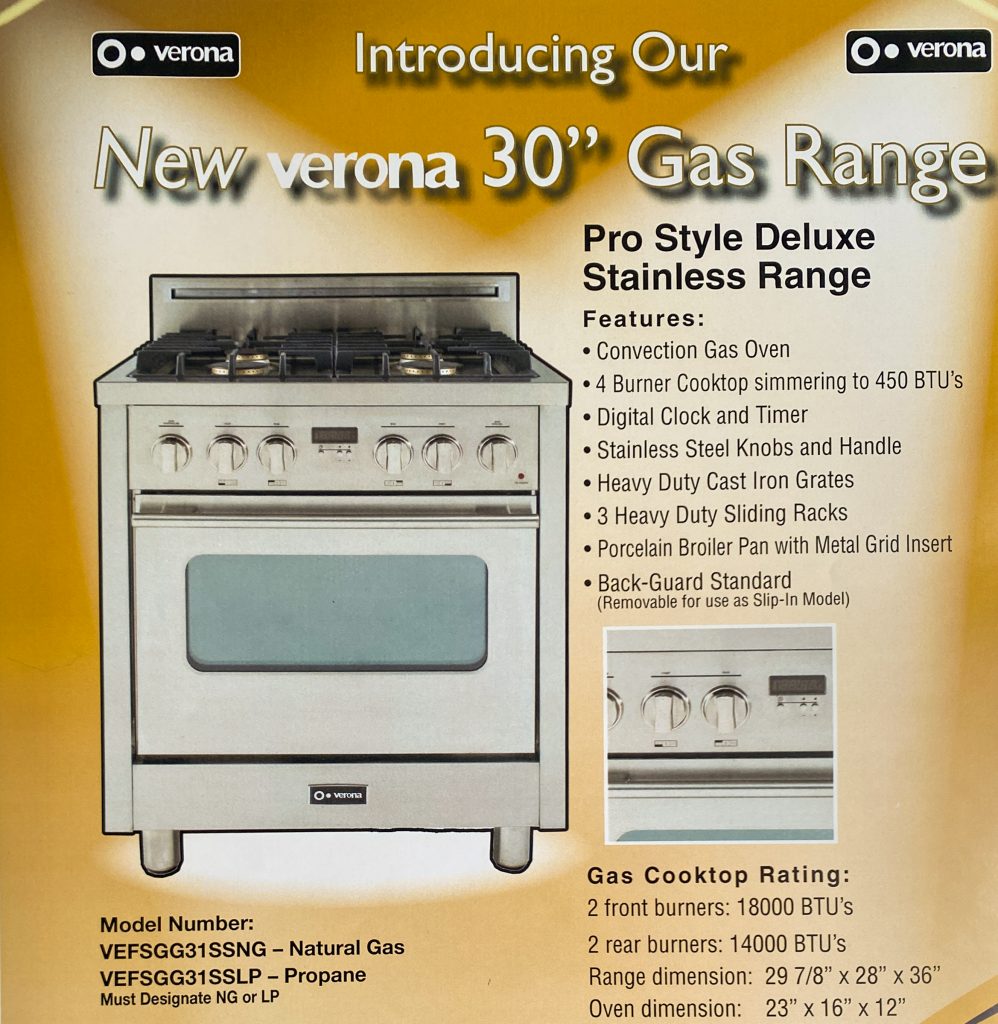 2012
This was a big year for Verona Appliances with the launch of a standard American-sized 30" Pro Style Deluxe Range. The new Collection was engineered specifically for the US market and was packed with professional quality features such as a convection gas oven, four burner cooktop, a digital clock and timer, heavy-duty cast iron grates and more.
Also launched in this year was the VeronaPro line, which included upgraded 36" and 30" ranges, a 30" gas wall oven and 36" gas cooktop, all with powerful brass German-made burners and many aesthetic upgrades.
2015
In 2015, Verona debuted the 36" Classic range that combined the very best of industrial design and cooking performance. The range was a recipient of Design Journal Magazine's Best of 2015 Products award. With the launch of the trend-setting Classic look, the Verona logo also received an update transforming into today's iconic square design.
Also introduced in this year was the 36" fully-electric N' Series Range, which still stands as an iconic model for the Verona brand. At the time of its release, the N' Series Range was the only fully electric range on the market.
2016
The Chefs Pak was released in 2016 to the delight of many home cooks. The accessory package included a heavy-duty stainless-steel griddle, 3" x 5" beveled spatula, digital meat probe and more.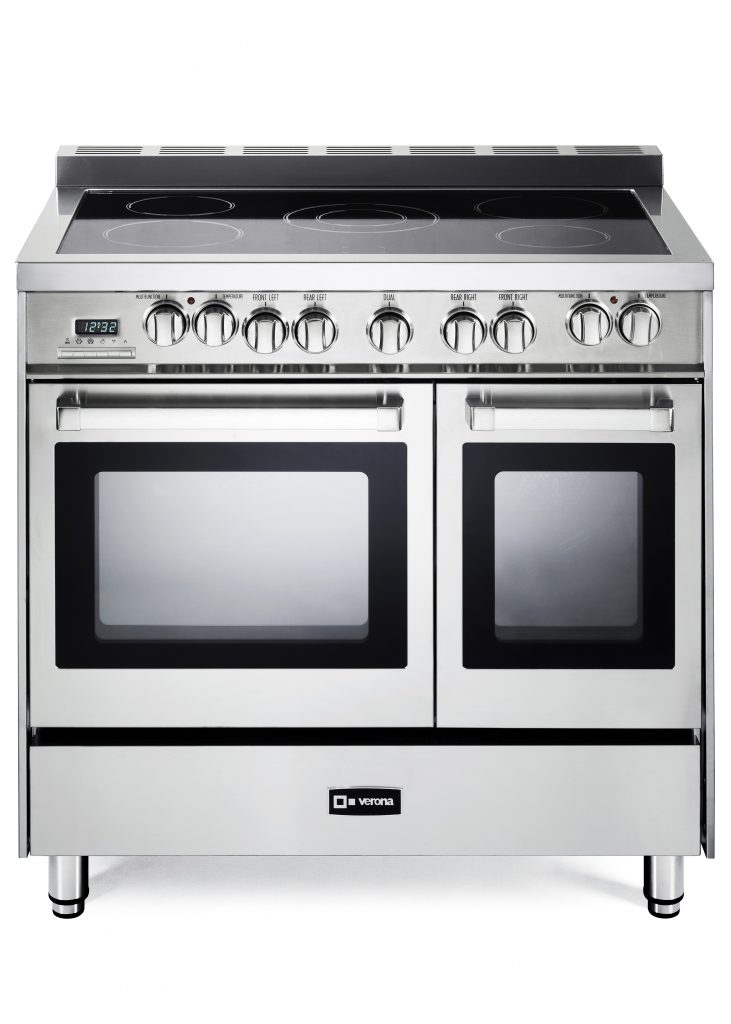 2017
In 2017 we launched Verona's exclusive 36" All-Electric Ranges. The range won a Good Design Award in the same year, and the collection of All-Electric Ranges was an Interior Design Best of Year Honoree.
2018
The Designer and Prestige series was added to our extensive line of 36" freestanding ranges in 2018. The ranges featured both performance and aesthetic upgrades such as brass burners, rounded handles, continuous cast iron grates, a modern knob design and clean, beveled doors.
2019
Verona added two new colors and colored knobs to our line for the Designer series, plus an online Designer Range Builder Tool that allows interior designers and homeowners to customize their very own Designer Series range. The "Designer Range Builder" provides users the option to preview any combination of fuel type, knob color and base color for their personalized appliance.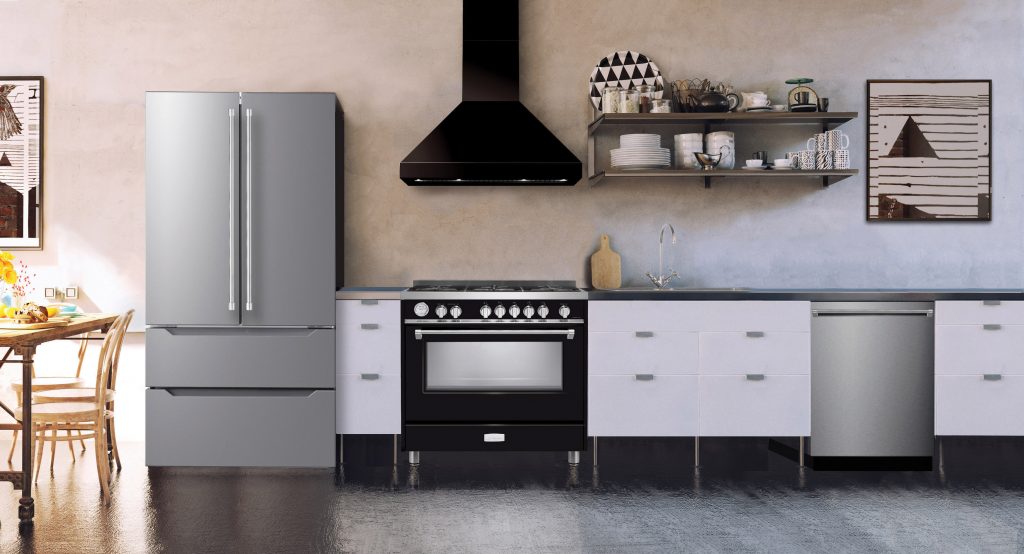 2020
Verona added non-cooking appliances to their line to offer a complete kitchen suite including new refrigerator and dishwasher for the first time. In addition to this exciting development, Verona also expanded its popular Designer series with Dual Fuel and Induction 36" ranges and ventilation options for wall-mounted, chimney hoods and built-in inserts.
2021
In our 20th year in the U.S., we celebrated with updated built-in collections, including the Designer Series 30" Gas Built-in Wall Oven, which has superior design upgrades including a soft-close door, commercial-style closed-door broiler, convection bake options and more. We've also debuted the Designer Cooktop Collection with beautifully designed continuous cast-iron grates, high-power triple-ring brass burners and soft-touch rubberized round knobs.
Stay tuned for more product launches! Follow us on Facebook or Instagram or visit www.veronappliances.com.